I just don't seem to be able to remember to write about what I read. But seriously, I do read. Not as voraciously as I'd like to, but I sneak it in there. Soooo, what have I read lately?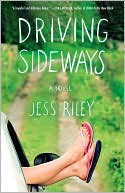 Driving Sideways
, Jess Riley
I really enjoyed this; I read it while undertaking a huge cross-country move of my own and appreciated the "gigantic new adventure"ness of it all.
After years of basically waiting to die, main character Leigh is faced with the fact that she just might end up living after all. She receives a new kidney and is given the "okay" to embark upon the coming-of-age adventure that so many of us take for granted, and at an earlier age, even--driving cross country.
She has some pretty serious expectations built up about what this trip will entail--everything from learning more about from where her donated kidney comes, to confronting the mother who left her and her overbearing, begrudgingly over-protective brother years earlier.
It's safe to say that NOTHING is as Leigh expects it to be as she journeys towards a clearer sense of herself and the grown-up she's been given the opportunity to become.
Yummy Mummy
, Polly Williams
Well, I love me some British chick lit, so I was a sucker for this. I'm sure it had nothing to do with the premise being that of a once svelte and fashionable career woman having morphed into a frumpy, insecure milk-bar of a mother with zero self-esteem and a brooding sense of doom in her relationship. Who could relate to that (well, minus the doomy relationship part)?
I loved this book--it was not, overall, a *deep read* by any means. But I loved watching Amy peel back the layers of her experience as a mother to find the core of her being again. Since having my own child over two years ago, the identity shift a woman experiences when becoming a mother is of particular interest to me. And I found her moment of clarity--a walk in a London park that just happens to be my "happy place" (ah, Regents Park, how I pine for you and my view of the pond from my dorm room)--to be tear-worthy and motherhood/womanhood-affirming. And sometimes, even if it's just a little treacly (which I didn't think it was, but I've read that others did), we need that.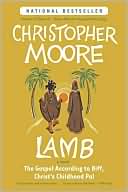 Lamb: The Gospel According to Biff, Christ's Childhood Friend

Christopher Moore
Seriously? So funny. Not being Christian, I'm not sure just how high it would rate on the "irreverent scale". Well, actually, since Jesus was a Jew and most of the knocks are at Judaism, and since I'm a Jew, I guess I didn't find it very irreverent--just freaking hysterical.
Premise? Biff, brought back to life in modern times, is tasked with telling the story of Jesus (um, Joshua) that no one knows. See, Biff was with him during those lost years, the ones when, according to Biff, he and Joshua traveled the East in search of the Magi who visited the manger the night Joshua was born.
This journey forms the basis of Joshua's later teachings and Moore is able to weave Eastern thought and religion into Jesus' message in a way that is effortless and, as absurd as the story can be, makes perfect sense.
Biff is hysterical--apparently he invented sarcasm and is very particular about who uses it and is really pissed off when they mangle it. One doesn't normally picture Jesus roaming the world with an over-sexed (seriously, he's got a thing for Mary. The Virgin Mary) ready-to-fly-off-the-handle sidekick. But in almost every way, it was absolutely perfect.
I was a little disappointed with the ending, but you know, it is what it is. Not like Biff could change all of that dying on the cross thing (although he did try). Interestingly, this book humanized the story of Jesus for me in a way that eleven years of Catholic school couldn't do. I think a bunch of nuns would probably clutch their rosaries in horror at that, but again, I kinda like that.