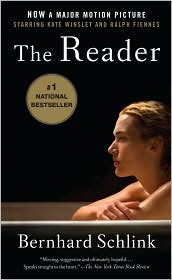 I had hoped to love this book more than I did. I could never quite fall into step with the narrator's voice or feel much for either Michael or Hanna. There was such a stoicism in how Michael told the story of their affair and of Hanna's trial later on, it was almost impossible to rouse any emotion or empathy for them. Am I the only one?
I did find Hanna's conflict interesting--that she'd choose to take the blame for such egregious crimes over admitting to the degree to which she lacks education. It seemed like such a counter-intuitive thing to do; I'm still not entirely sure I understand why she makes the choice she does---is it pride or guilt? Does she feel that she deserves the harshest punishment even though she is not the one who masterminded the crime? Is the austerity with which she lives her life and pushes people from her done out of a sense of penance or arrogance?
I'd like to believe she lives her life and makes the choices she does as a form of atonement, but it's never entirely clear--she is so devoid of emotion for so much of the story, and given her crime, it's hard to give her the benefit of the doubt. There's only so much sympathy one can drum up for a Nazi, you know?